About Martin Merritt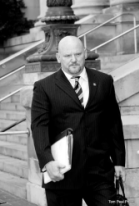 Martin Merritt of Dallas was a Board Certified Medical Malpractice Litigator, (1987-2005) often defending physicians in state court, as well as defending his physician clients in MDL Pharmaceutical litigation filed by many of Texas' powerhouse plaintiff's firms. While Tort Reform under HB4 in 2005 successfully reduced the number of medical malpractice defendants, there arose another threat. Under the heading, Medicare "Fraud and Abuse," the Department of HHS, which had long possessed the authority to punish providers for actual fraud, began cracking down with a vengeance on violations of even the most arcane rules and manual provisions—even if no fraud were involved. The OIG gained the power to bypass the Attorney General by using the CMPL, instead of the False Claims Act to impose fines of as much as $50,000 per patient bill submitted. Under PPACA, the government was authorized to summarily seize assets and exclude physicians from Medicare and Medicaid– with little thought of Due Process– merely upon a credible report of a rules violation. This, together with a dramatic increase in Qui Tam FCA whistleblower lawsuits, makes fraud and abuse compliance a top priority. Unlike medical negligence, there is no generally available insurance a physician can buy which will cover fraud-like claims. Penalties for each bill submitted in violation of a regulation can aggregate into the tens of millions. The government can unilaterally freeze a physician's assets, or suspend further payments, crippling a Practice to the point that resistance is futile.
For this very reason, Martin now maintains a state-wide boutique practice, Dallas-based Martin Merritt PLLC, which represents physicians, small practice groups, and other providers with a primary goal of preventing a violation of Stark Law/AKS/FCA fraud and abuse laws before it happens. Contracts, Employment Agreements, Equipment Leases, Office Space Agreements, Joint Ventures, Medical Directorships, and many other transactions carry Stark Law implications. Martin Merritt also assists business lawyers who need a partial consult to ensure a business deal involving groups of physicians meets state and federal Stark/ AKS/FCA regulations. Martin also defends physicians in litigation and administrative actions. In addition to his practice, Martin appears weekly in a column for Washington, D.C. based, Physicians Practice Magazine, and is a frequent contributor to Chicago's Becker's Hospital Review and Becker's ASC Review as well as a frequent guest on local radio talk shows. Martin publishes a monthly newsletter "Merritt's Health Law Reporter, " which covers False Claims Act cases of interest. He delivers the annual "Fraud and Abuse" address to the Health Law Section of the Dallas Bar Association, and the North Texas Healthcare Compliance Association. Martin is available to address small or large groups in need of help understanding state and federal health law compliance. Martin is a member of the Health Law Section of the Texas Bar Association and the Health Law Section of the Dallas Bar Association.

Books Authored

Motions to Dismiss in Medicare Fraud and Abuse Qui Tam Litigation Publication Expected : April 2013. Treatise will cover (1) the basics and historical development of False Claims Act/Qui Tam Litigation, and the five major federal statues, False Claims Act 31 U.S.C.§§ 3729–3733, Anti-Kickback Statute, 42 U.S.C.§ 1320a-7b(b), Stark Law, Physician Self-Referral Law 42 U.S.C.§ 1395nn, Exclusion Statute 42 U.S.C.§ 1320a-7, Civil Monetary Penalties Law [42 U.S.C.§ 1320a-7a., (2) The rise of the OIG as the primary governmental agency responsible for anti-competitive rationing of healthcare through the destruction of the infrastructure of previously lawful business relationships (3) The various business practices which are normally singled out for scrutiny by the OIG and HHS, together with a treatment of the various "Safe Harbors," and how relators fail to properly plead a case (4) Statutory defenses to a qui tam action, including the "Public Disclosure Bar" and the "First to File Rules," and (5) The Defenses available under the Fed. R. Civ. P., including the Special Pleading rules under Rule 9 (b) and Rule 12(b)(6).
Texas Motion Practice Handbook, Vols. I-II, 1600 pp., Knowles Publishing Co., Fort Worth, Texas (1992-2005)(Best-selling treatise and form book, Texas Civil Trial Procedure and Evidence. Chapters include Summary Judgment, Default Judgment, Motions to Recuse Judges, Motions to Disqualify Counsel, New Trials, Dismissal for Want of Prosecution, Sanctions, Discovery Motions.) This book and the annual updates required reporting on every major development in civil procedure each year during the publication run.
Bar Journal Articles, Texas CLE Presentations, Speeches and Magazine Articles
"Stark Law and Accountable Care Organizations," Physicians Practice, (August 19, 2012) "Opting Out of Medicare in Three Steps," Physicians Practice (August 12, 2012), "The Six Main Reasons Physicians Are dropping out of Medicare," Physicians Practice (August 5, 2012), "Calif. Medicaid Ruling Shows Overcharging Not 'Always Illegal,'" Physicians Practice Magazine, (July 29, 2012) "26 Health Care Leaders React to Supreme Court's Decision to Uphold PPACA", Becker's Hospital Review, (June 28, 2012);"Stark Law, A Flawed Solution to a Flawed Program?" Becker's Hospital Review, (Apr. 5, 2012); "Defensive Tactics in False Claims Act and Medicare Fraud and Abuse Litigation, Health Law Section, Dallas Bar Association," (Jan 2012); "Medicare Set-Asides in Litigation," National Business Institute, (Dec. 2010). "Fry is Out, But What is the Test? The Foundation for Expert Testimony in Federal Trials after Daubert", 57 Tex. Bar. J. Vol. 7, pp. 710-715, (July 1994);"Texas Summary Judgment Evidence," 53 Tex. B. J. Vol. 1, p. 24, (January 1990); "Prejudgment interest in Wrongful Death, Personal Injury and Property Damage Actions," Texas Trial Lawyer's Forum, Vol. 2., No. 2 p 21-23 (1992); "A Critical Analysis of Irving Younger's Ten Commandments of Cross Examination," Texas Trial Lawyers Forum Vol. 28, No. 1. pp.11-16 (1994); "Rule 165a. Dismissal for Want of Prosecution" 60 Tex. Bar.J. Vol 6, pp. 555-559 (June 1997);" Summary Judgments in Texas," Dallas Bar Assn. Friday MCLE Clinic, (May 1990); "Responding to Adverse Pretrial and Trial Motions," Texas Trial Lawyers Association MCLE Seminar, Dallas and San Antonio, (Feb. 1994); "Demonstrative Aides in Civil Trials," National Business Institute Seminar, (Feb. 1994); "Motion Practice Pointers," Plano Bar Association, (July 1995); "Case Intake and Investigation," Institute for Paralegal Education, Seminar, (Sept. 1994) "Cross Examination, Getting the Most out of Depositions," Texas Trial Lawyers Assoc., Seminar, (Sept 1996); Guardian Ad Litem Practice and Procedure," University of Houston Bar Foundation, (Sept. 1996); "Federal Practice Update," National Business Institute (Feb. 2001).